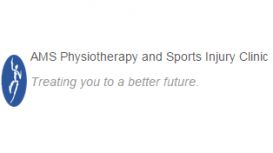 You're probably here because you need some help, either with a pain from which you are suffering, or an injury you have sustained. AMS Physiotherapy and Sports Injury Clinics have Chartered, Health Profession Council registered, experienced physiotherapists who can help you. We take pride in helping people just like you. Find out more about who we are or what the AMS Physiotherapy and Sports Injury Clinic's principles are using the links, but remember it is not what we say but what our clients say about us that counts for so much more.
If you are still undecided then lets us give you 10 good reasons to choose AMS Physiotherapy and try to persuade you as to why you should pick up the phone or register with us to arrange your first convenient physiotherapy appointment. Don't delay, call us now on 0800 612 0459 and start your unique road to recovery, if you would prefer we can call you or you can simply ask us a question first.
---
Reviews and Ratings
We do not have any reviews about AMS Physiotherapy available right now.